Welcome to 2018 – an exciting year lies ahead with the slowing market presenting many opportunities for both owner-occupiers and investors alike.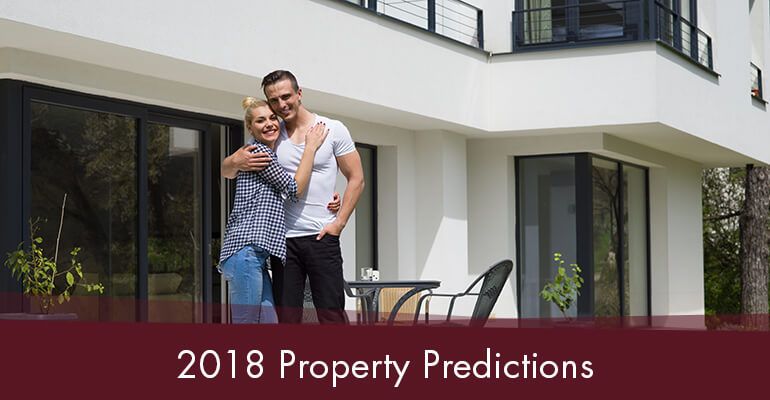 Buyers Domain has hit the year running inspecting quite a few properties last Saturday across the Inner West, Eastern Suburbs and North Shore.
Most of these open houses were well attended attracting on average around 20 groups – surprisingly high given that many buyers could still be on annual leave. Many of my industry colleagues have also commented that interest from buyers already seems fairly strong, indicating we could be in for another year of robust buyer activity.
As we all know when it comes to the Sydney market, it is guaranteed that there will always be stiff competition, especially in the increasingly popular suburbs of the Inner West, Eastern Suburbs and North Shore. With more stock and less price growth, buyers are now in a better position to take their time and expect more balanced pricing on both houses and units.
Investors to Return?
After five years of explosive price rises, the measures taken by the Government and the Australian Prudential Regulation Authority (APRA) to curb the activity from overseas buyers and investors has clearly worked, resulting in last year's market slowdown.
It is possible that the market is moving on from there with some of the smaller lenders such as ING, stepping up to compete against the 'Big 4' banks (Commonwealth Bank, National Australia Bank, ANZ and Westpac) who have been hampered by APRA's lending restrictions.
At the same time, the measures taken by the Big 4 could now allow them to re-open their books to the borrowers they were forced to turn away at the end of 2017. This could lead to investors returning to the market with renewed enthusiasm. So my advice to first home buyers, downsizers and young families is to take advantage of less investor competition to get a foot in the door as soon as possible.
Some of the other major factors shaping the property market this year are likely to be:
Oversupply of units: Houses in good locations close to the CBD are highly likely to outperform units and in particular, newly built apartments in higher density blocks.
Interest rates: Will they rise this year and affect the enthusiasm of buyers? The Sydney Morning Herald reports that the view is divided. Some like Corelogic – the group that monitors and collates property prices – believe not (see below). Others such as AMP predict a single rate rise in late 2018. Rising interest rates will clearly affect the market but they are unlikely to be a factor for the time being.
Mixed Bag of Industry Predictions
In assessing the 2018 'prediction-type' media reports from industry and financial commentators, there has been a bit of a mixed bag of opinions on such aspects as property values, investor activity and interest rates.
Here's a summary of what some of the main industry players have had to say:
Cameron Kusher, Head of Research, Corelogic:
Interest rates are likely to remain on hold in 2018.
After values surged 75 per cent higher over Sydney's growth cycle and 59 per cent higher across Melbourne, it's rational to expect some slippage in dwelling values across these cities.
To the end of November they [Sydney prices] were already down 1.3 per cent and I think by the end of 2018 we could see them down as much, potentially, as 5 or 6 per cent in some regions.'
Louis Christopher, Managing Director, SQM Research:
SQM Research is forecasting modest to moderate price growth in Sydney of 4-8 per cent.
2018 will still be a good year in real estate; with interest rates remaining historically low and strong demand maintained by steady population growth.
'The market will pick up a bit in the second half of 2018 and that will be on the back of the banks being able to expand their lending books once again.'
John McGrath, McGrath Real Estate:
After several months of post-boom activity, vendor discounting will increase as sellers finally adjust their expectations and accept that boom level prices are no longer achievable.
Price growth will continue – albeit at a slower pace, particularly in Sydney and Melbourne's best suburbs. The citywide medians will rise and fall over many months as the market rebalances.
'My best advice to buyers and sellers over the next six months is don't let yourself be distracted by the headlines. Yes, the boom is over but the opportunity to make money in the Sydney and Melbourne markets will always be there if you keep a long-term view.'
Michael Yardney, Property Investment Adviser:
The Sydney property market has run out of steam, but won't crash like some are suggesting. Instead it is likely to grow between +4 per cent and 6 per cent.
'With market forecasts of subdued growth many would be investors will be questioning whether property still represents a smart investment. On the other hand, strategic investors who have a long term outlook will see the period of slower growth as a buying opportunity.'
Is 2018 a good time to buy in Sydney? Absolutely! And given some of the above predictions on price growth, I believe that anyone who has delayed their property search in the hope of a downturn leading to cheaper prices, is likely to end up disappointed.
Make 2018 the year to achieve your Sydney property dreams. For expert help on finding your next home or investment property call Nick Viner today on 0405 134 645.