By Buyers Domain Principal Buyer's Agent, Nick Viner
If you are considering buying a new home or investment property, it is tempting to try to time the market in order to eliminate the risk of overpaying and to maximise capital growth prospects on the up-turn.
The Sydney property market peaked approximately 18 months ago and has since dropped by 12%: https://www.propertyobserver.com.au/forward-planning/investment-strategy/property-news-and-insights/95337-sydney-home-prices-down-12-from-peak-nab.html
How much lower will prices go? In other words, if you want to make sure you buy in a downturn, how long have you got left?
Unfortunately, picking the bottom of the market is not an exact science and no-one has a crystal ball. Property experts and analysts are far from unanimous in their predictions as to how low prices will go. A few doomsayers have predicted price falls of up to 40%. However, there seems to be a substantial body of opinion predicting peak-to-trough falls of around 15% – 20%.
If Sydney prices are already down by 12% and 15% – 20% is the bottom, then the biggest price falls have already occurred. Particularly considering some suburbs have already declined by around 15% -20% (Alexandria: -15%; Haberfield: -18%; Parramatta: -23%, according to the latest figures from Property Data Solutions Pty Ltd).
As to when we can start to see prices lifting, as highlighted in a recent article by Kate Burke in Domain on 13 February, 2019, the best predictions vary anywhere from the middle of this year to the end of next year: https://www.domain.com.au/news/what-now-for-sydneys-property-market-five-experts-give-their-predictions-800490/ Here are some of those predictions together with that of the QBE Housing Outlook, 2018 – 2021 below: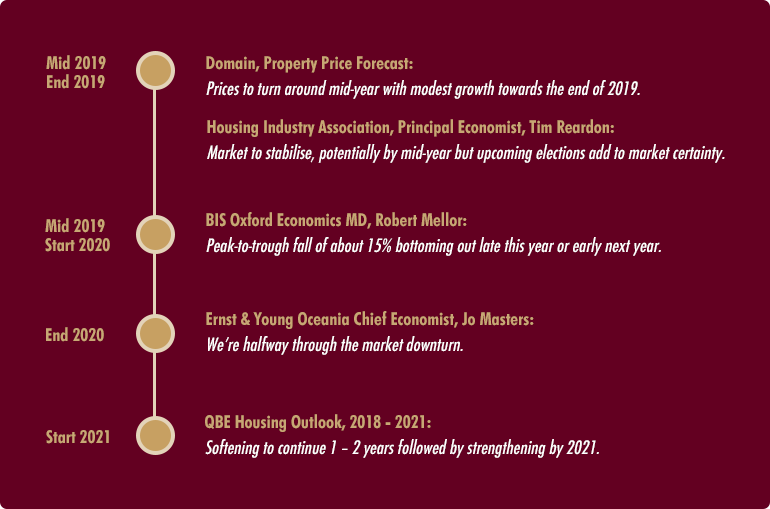 It is impossible to pinpoint the bottom of the market with any accuracy. In saying that, buyers should take advantage of buying in the current downturn since they will:
Face less competition for properties
Have longer to take their decisions
Generally, be presented with a wider selection of properties on the market
Have a golden opportunity to secure the best quality blue chip property in their budget – these usually tightly-held properties are either unavailable or subject to intense competition during a strong market.
So the best guesses for how long you have before the market starts to pick up range from the end of next year to the middle of this year.
Don't leave your property search too late. To plan your property search the right way and find the right home or investment property, speak to Nick today on 0405 134 645.