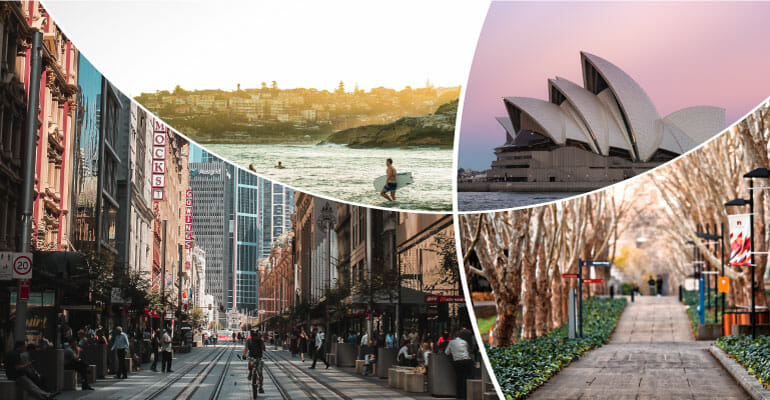 By Buyers Domain Principal Buyer's Agent, Nick Viner
Sydney is Australia's largest and most expensive real estate market, followed closely by Melbourne, then Brisbane. Its home median value as of June 2018 is $870,554 – that figure reflects the last 12 months' decline of 4.5 per cent, the most significant decline in the market since March 2009.
While many news outlets are focusing on the city's negative market growth this year, it is worth putting things into perspective. Sydney is a great place to live. It has earned accolades from many lifestyle and economic authorities and has been often named one of the world's best cities. From its stunning beaches to first-class infrastructure and amenities, it is a world-class city.
Sydney is also one of the hottest housing investment destinations in the country. Although falling market prices is not music to an investor's ears, it is still worth investing in its real estate market.
Historical Performance of Sydney's Real Estate Market
Investors know that market declines are inevitable; we only have to weather them. Real estate investors will look at the long-term returns.
A look at Sydney's 20-year real estate market performance is reassuring. From 1997 to 2017, housing prices experienced four 2-digit percentage growths (which peaked from 2012 to 2015 at 42 per cent). The market declined four times, but immense growths followed immediately after:

Source: CoreLogic hedonic home value series
What it means: Sydney has a strong real estate market, but not because it doesn't experience downturns. It is because it has downturns and still manages to weather them, coming back even stronger. Long-term investments pay off.
A Positive Economic Outlook
Economic factors like employment rate and inflation are critical to real estate because they have a direct effect on the people's buying power. In 2016, Australia celebrated its 26th consecutive year of economic growth. Sydney has been instrumental to this achievement. It accounts for 31 per cent of Australia's GDP. Furthermore, the outlook for New South Wales is bright; investors are looking at economic and employment growth of around 3%.
What it means: A robust economy drives real estate markets. Australians embrace homeownership, and the promise of jobs and stable wages make them eager property renters and buyers.
Supply and Demand Forecasts Hint at Increasing Rental Costs
Sydney enjoys a strong population growth, which helps keep the demand for residential properties high.
One factor that drives housing and rental prices is a limited supply. Building approvals for houses and attached dwellings in the city have plateaued since around 2015. Market analysts expect that the housing and rental supply will fall just below the demand in 2018 and beyond, which may result in higher rental prices.
What this means: Those who've invested in rental properties are looking at the possibility of higher profits in the next couple of years. Given the lower market prices, now could also be a good time for property investors to add to their portfolio.
A Cautious APRA Safeguards against a Growing Real Estate Debt
A more conservative lending industry is another reason for the current market slowdown. The Australian Prudential Regulation Authority (APRA), the independent statutory authority that regulates banking and insurance in the country, has imposed tighter lending conditions. Banks are now less likely to offer loans to high-risk applicants. On the one side, the APRA's regulation reduces investment capabilities; but on the other, it helps protect Sydney from developing a housing bubble reminiscent of the U.S. in 2008.
What it means: Investors have some reassurance that property buyers who obtain financing are low-risk borrowers who are less likely to default on their payment obligations.
Where Should You Buy Property in Sydney?
Sydney is an excellent city to invest in. The questions are:
Where in Sydney are the most promising locations for real estate investors? What types of properties should you be investing in?
As the market has slowed this year, it has become all the more obvious that quality properties, particularly in the inner ring suburbs remain sought after and are holding their values. But what makes a quality property?
Buyers Domain can help to select the most suitable investment property. With over 10 years' of experience, we know the city and the property market intimately. We can give you valuable insight into the residential and commercial areas around Sydney.
Buyers Domain can help you make smart investments that can change your life. Call Nick today on 0405 134 645 to get started.