By Buyers Domain Principal Buyer's Agent, Nick Viner
A majority of Sydney's apartment dwellers are young professional singles and couples, but recent reports have shown a rapid growth in the number of small families occupying high-rise residences. According to a 2017 Sydney Lifestyle Study cited by Sydney Morning Herald, 'vertical families' jumped from 65,000 in 2011 to more than 87,000 in 2016.
One in five Sydney apartments is now occupied by a small family.
Housing Affordability Driving Families to Apartments
One of the main drivers of this major demographic shift in Sydney is housing affordability. By the end of 2016, Sydney's median house price reached a record high of $1,123,991, making Sydney one of the least affordable cities in the world, ranking second after China and ahead of Canada and the US.
Meanwhile, Sydney's abundance of high-rise residences, along with the continuous stream of new units, has made apartment living more attractive to those on a tight budget. As of April 2017, the median apartment prices in some Sydney suburbs are as follows: $632,000 in Hillsdale, $690,900 in Olympic Park, $517,500 in Auburn, $741,500 in the Sydney CBD and $840,000 in Mascot. With the current downturn in the market, the cost of apartments is even more appealing whilst there is currently plenty of stock to choose from.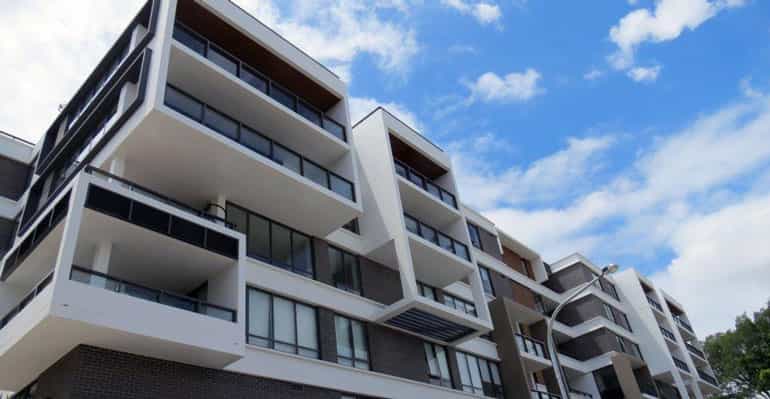 The Conveniences of High-Rise Living
In addition to the lower cost, small families are also attracted to the amenities associated with high-rise living. Apartments often have shared facilities, such as a gym, a rooftop pool, outdoor dining areas and sometimes even study and work areas. Such facilities may be well out of reach when looking for a single dwelling house.
Living in an apartment is also low-maintenance. You don't have to worry about tending to a garden, mowing a lawn or checking your roofing. Apartments have their own management that handles the maintenance and repairs for the entire building.
The Downsides of Raising a Family in an Apartment
Although apartment living is a popular choice among young families, government agencies and developers have been slow to adjust to the demographic shift.
A study from the Deakin University School of Health and Social Development explained that many apartment buildings put kids at risk as they have not been built with their needs in mind. Windows that open from the floor up and balconies with limited spaces pose safety risks for children. There are also some design features, like small, shallow sinks, that are not ergonomic for children and bathrooms with no bathtubs.
One of the biggest downsides to apartment living with kids is noise control. Parents need to find ways to balance being considerate to neighbours and tending to their children. Many parents resort to various noise management strategies like installing carpet and foam mats and covering air vents. If none of these strategies worked, they are most likely forced to modify their domestic routines and lifestyle.
Raising a Family in a Sydney Home
Whatever your family's housing needs, let us help you acquire your 'home sweet home' with Buyer's Domain's property buying services.
We'll discuss your property needs, preferences and requirements and propose a strategy to help you secure your desired property at the best possible price.
For more information about our services, get in touch with Nick on 0405 134 645.