Today's media is flooded with bad news stories and negativity. It runs the gamut, from the war in Ukraine and escalating energy costs through to rising inflation and a potential American recession. The price of lettuce has even become a regular feature in media reports. Interest rate movements may be concerning to some and have gained more prominence as a conversation piece at family gatherings.
All of these developments have people scared of committing to purchase a property.
But while others are fearful, I see Sydney's best buying prospects in years.
Here's why I believe you may even need to act more quickly than you think to secure a home or investment before this window of opportunity closes.
A Convergence of Factors
As most people know, the pandemic paradoxically delivered a hot run of price growth for prime Sydney property. After a stuttering start in early to mid 2020, the pace of transactions ramped up to deliver some of the strongest value gains seen in recent memory.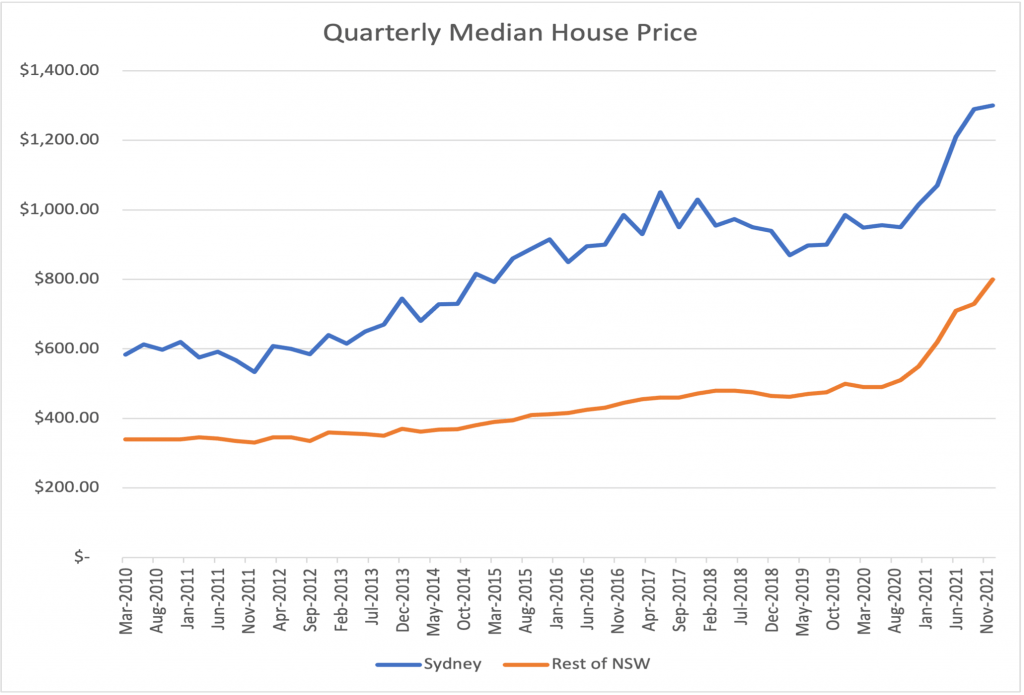 Australian Bureau of Statistics (ABS) quarterly data reveals Sydney's median house price rose from $583,000 in March 2010, to $1.3 million in December 2021. That's a 123 per cent uptick in value.

Even more impressive are the gains to have occurred in the past two years alone. Between December 2019 (median $985,000) and December 2021 (median $1,300,000), houses increased in value by a staggering 32 per cent!
And yet, between June 2021 and December 2021, price growth began to slow. You can see this as the blue line flattening towards its end on the graph. The slowdown has continued into this year. In fact, CoreLogic information to June 2022 shows that quarterly price movements in Sydney have gone into negative territory.
Why Buy Now?
So, with all this bad economic news and evidence of a real estate price slowdown, why am I saying now is a good time to buy?
We are in a window of opportunity that opens about once every seven to 10 years. You see, much of the recent slowdown in market activity was triggered by interest rate rises being announced during a federal election campaign. Both these events traditionally halt buyers in their tracks as uncertainty delivers a blow to confidence.

But history will play out yet again. Over the years, I have watched the time from price peak to price trough last between four and eight months – but that's it. It is during this period when vendors, keen to sell their property for whatever reason, are most open to doing a deal. If they are selling now, it is because they cannot afford to wait.

I do not think this time is any different. Purchasers are running scared, and demand has slowed quickly. I have seen properties transact recently anywhere from 5% to 20% per cent lower than would have been the case just six months ago. In fact, I have just purchased a home for a client in North Maroubra for $2.75 million, and the nearest recent comparable sale was $3.5 million sold only a few months ago!

The market rebound will come, and it may arrive far sooner than most people are predicting. Interest rates are on the rise, but many economists are predicting they will top out at about three percent. This means interest rates will still be among the lowest recorded in the past 30 years. While purchasers might be scared at present, a realisation that we not facing double-digit interest rates will settle in and borrowing levels will return to normal.



Secondly, markets traditionally ramp up in the second half of each year. Winter delivers a lull but by August, we are past the end of the financial year and mid-semester school holiday distractions. Come September, people are planning for their end-of-year moves around work, school and lifestyle. We will then have a natural uptake in buyer demand and far more activity which will lead to more competition from buyers.



Another big driver is rental demand which is at record highs right now. CoreLogic reports Sydney's median rent has risen 9.4 per cent over the past 12 months, while the current vacancy rate is a staggeringly low 1.4 per cent. Further rent rises are almost certain based on these numbers. As rents are rising and prices have fallen, this will encourage investors to return to the market. Add in increased migration as international borders reopen and you can see how rental demand will continue to grow.



Further interest rate rises could restrict your borrowing capacity in the future. This means you might find that you can borrow more now than down the track. Of course you must be careful not to over-commit but there have been times in the past when reduced lending has been based upon arbitrary factors rather than a real change in income levels.



Buying in last year's heated market was fraught with escalating prices, intense buyer competition, hasty decisions and a real sense of FOMO. Buyers willing to transact in this market have the luxury of taking their time to find the right property and conduct their due diligence thoroughly as conditions favour buyers.
Mark my words. It is a great time to be buying property in Sydney right now. The key is selecting the right type of property and buying at a great price. The best way to achieve this is with the assistance of a specialist buyer's agent with networks throughout Sydney as well as the negotiation skills to drive a hard bargain. But do not wait too long, because this window of opportunity will close almost as quickly as it opened.